KnowDis - Proactive Knowledge Discovery for Organizations
Within corporations, opportunities are missed and efforts can be duplicated due to the relevant information not being known by the appropriate individuals. Often, an employee does not even know that relevant information might be uncovered by searching the corporate intranet.
"The mere existence of knowledge somewhere in the organization is of little benefit; it becomes a valuable corporate asset only if it is accessible, and its value increases with the level of accessibility."

Davenport and Prusak, 2000
The main goal of this research project is to support knowledge workers by providing them proactively with information relevant to their current task. Since reading and responding to email is a substantial part of the daily work experience, we focused on providing email users with information that is relevant to the email message they are reading, but that they might not be aware of. Contextually relevant knowledge is discovered automatically, in a proactive manner from the web, intranet, or desktop, without requiring explicit attention or instruction from the user.
Over the course of two years, we have iteratively designed, developed and field-tested a knowledge discovery system (KnowDis) for the enterprise. As part of this process, we conducted forty-six semi-structured interviews with key knowledge workers of a large IT organization. Results of this research will be presented at ACM CHI 2011.
"Much like TiVOs and DVR technologies changed our viewing preferences and made manual television recording obsolete, modern technology will soon give us answers before we have even asked a question. Projects such as KnowDis are at the core of this revolution, and CA Labs is very proud to be involved"

Gabby Silberman, Senior Vice President and Director of CA Labs
Publications
Laqua, S., Sasse, M.A., Gates, C., and Greenspan, S. (2011). Do you KnowDis? A User Study of a Knowledge Discovery Tool for Organizations. To be presented at CHI 2011, Vancouver, BC, Canada.
Laqua, S., Sasse, M.A., Gates, C., and Greenspan, S. (2009). Making Sense of the Unknown: Knowledge Disseminiation in Organizations. In: Sensemaking Workshop, CHI 2009, Boston, MA.
KnowDis User Interface
KnowDis is a fully functional prototype add-in for Microsoft Outlook that uses keyword extraction to make sense of the active email message, and proactively displays without any user intervention, links to information on the local machine, a company's intranet resources, and the Web: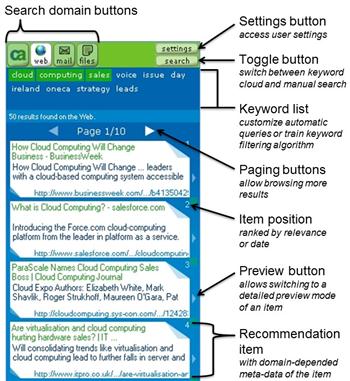 This page was last modified on 21 Jan 2011.
Researchers
Research Themes
Duration
Methodology
Evolutionary prototyping
Longitudinal field studies
Data mining